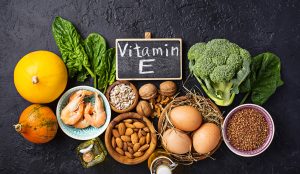 The body uses vitamin E in a number of processes, helping to boost the immune system, it also widens blood vessels and keeps blood from clotting within them.
Vitamin E can be found in a wide variety of foods.
plant oils – such as soya, corn and olive oil
nuts and seeds
wheatgerm – found in cereals and cereal products
If you are unable to get the right amount from your diet, vitamin E is available as a food supplement, however too much could be harmful, always seek advice from a qualified professional.