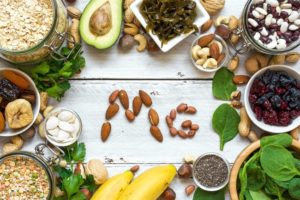 Magnesium  is an essential mineral which means it can not be produce by the body and must be obtained through diet. It is required by the body in large quantities.
Magnesium contributes to:
normal muscle function
the maintenance of normal bones and teeth
a reduction of tiredness and fatigue
normal functioning of the nervous system
contributes to electrolyte balance
Magnesium is found in the following foods:
– Dark leafy greens
– Seeds and nuts, including sunflower and sesame seeds, cashews and almonds
– Squash, broccoli, and other vegetables
– Legumes
– Dairy products
– Meat
– Unprocessed whole grains
– Chocolate
Magnesium deficiency is common among adults with the elderly more vulnerable to magnesium deficiency. Women are also at higher risk for low magnesium, especially with age.