Foreword by Lorraine Nicolle
APRIL 2018 • 336pp • £30.00 • HB • ISBN: 9781848193321
What are the functions of mitochondria in the human body? Why might they stop working properly and what can happen as a result? How can personalized nutrition help to optimize mitochondrial function and prevent or address chronic conditions?
This innovative book explores the incredibly complex biochemical roles of mitochondria in health and disease. When healthy, mitochondria provide us with ninety percent of our body's energy. When unhealthy, this can lead to many chronic and degenerative conditions including cancer and Alzheimer's disease. This guide helps practitioners to identify the mitochondrial dysfunction underlying a wide range of health complaints, and provides inspiration about relevant and emerging mitochondria-supportive dietary regimes and nutrients to explore within the model of personalized nutrition.
'The scope and detail of conditions covered within this book, combined with functional testing and appropriate interventions, offers a really useful handbook and tool to complement the practitioner in clinic.'
– Nina Bailey BSc (Hons), MSc, PhD (Cantab), RNutr Head of Nutrition at Igennus Healthcare Nutrition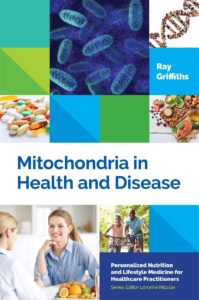 About the author
Ray Griffiths is a nutritional therapist and lecturer with an MSc in Personalized Nutrition. Ray lectures on a diverse range of subjects such as Parkinson's disease, cancer, ageing and mitochondria.
Part of the Personalized Nutrition and Lifestyle Medicine for Healthcare Practitioners Series from Singing Dragon
Edited by Lorraine Nicolle, this series of accessible, evidence-based, practical guides is essential reading for practitioners and students of clinical nutrition, and all other primary and complementary healthcare professionals interested in an approach that responds to the unique health needs of every individual. Each book in the series is a powerful new tool to help practitioners achieve significant clinical improvements for their clients/patients through the cutting-edge paradigm of personalized nutrition and lifestyle medicine.
Launching with Mitochondria in Health and Disease by Ray Griffiths (April 2018), subsequent titles will explore the application of personal nutrition in diverse contexts, including Using Nutrigenomics within Personalized Nutrition (May 2019), Case Studies in Personalized Nutrition (Oct 2019), Personalized Nutrition for Cognitive Decline (May 2020), and Personalized Nutrition for Mouth and Dental Health (July 2020).
Receive 10% off this book when you use the code Y18 at the checkout on:
www.singingdragon.com