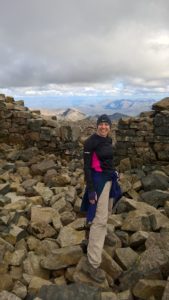 Climb the highest mountain in Scotland, England and Wales, all within 24 hours (including travelling time). This is a walking distance of around 26 miles with 1000 feet ascent. The driving distance between the 3 peaks is 462 miles and it's tougher than it sounds.
A small group of work colleagues decided this would be a fun thing to do so I joined the team of 7 walkers and 2 drivers and drove up to Fort William setting off from Manchester at 7.30am on a sunny Friday to take up the challenge.
We began the climb up Ben Nevis at 3.47pm.  It was clear after only ten minutes that there was 3 of us that were determined to make it, and the group split into two. I've never climbed any of the 3 mountains before and hadn't completed any specific training. I thought my general fitness would be enough. This was mistake number 1.
This climb has some fantastic scenery and has lots of winding sloping sections of path so it feels very long as you wind back and forth towards the summit, but it's not a difficult climb. We reached the snow covered peak in 2½ hours at 6.20pm, took photo's and then made our way down, jogging where the terrain allowed.  I felt a bit of a pull in my left calf, but ignored it. The 3 of us piled in the car and sped off to Cumbria to tackle Scafell Pike. This was mistake number 2.
There wasn't a lot of leg room in the back of the BMW, and after several hours sat in the same position, my knee didn't feel quite right as we got out the car. But, with no time to lose I put on a support bandage, ignored the discomfort and we began to climb Scafell Pike at 2am on Saturday morning. Big mistake number 3.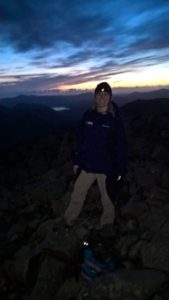 This was a difficult climb, not helped by trying to climb and cross rivers in the pitch black night. The terrain consists of lots of loose football sized rocks, some steep slippery grass, and climbing over large sections of enormous boulders or jumping between stones over the river.  We got to the top just as the sun was coming up, took a picture and tried to get down as quick as we could.  In the daylight we realised we'd missed the main path and made our assent much harder but it's difficult to get a wider view with only a head torch.
It was on the way down that my knee really started to hurt. Slopes were bearable but with every step down I was in real pain.
We got back to the car, I took some Ibuprofen, to ease the pain and swelling on route to Snowdon and told myself I only had to do one more mountain, the rules of The Challenge stated that I only had to make it to the top of the mountain. My knee would be fine. Mistake number 4.
My work colleague in the back of the car next to me was making up a protein shake.  He'd been diligent about taking supplements before and after each climb as well as energy potions for the climbs themselves. Not having done any real research on how demanding The 3 Peaks Challenge is on your body I hadn't brought anything, but a tuna pasta salad and Snickers bars! I was woefully under prepared.
We arrived at Snowdon mid morning on Saturday. My colleagues were in better shape and faster than me, so we got split up, all desperate to make it to the top in the time allowed. We take the Pyg Track which is the steep, but short route. Full of pain killers, I manage the first section quite well, but it starts to get tough, the wind picks up and the weather closes in, it's foggy, cold and raining and the track becomes a scramble, I'm pulling myself up on the rocks and my knee is screaming 'Stop', but I'm almost there.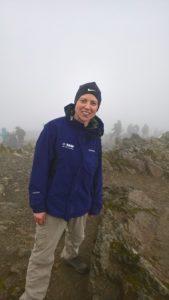 I make the top of Snowden, 21 hours and 2 minutes after I started at the base of Ben Nevis. Delighted, exhausted and a bit emotional with a very poorly and sore knee.
I loved this challenge, it's tough but achievable but would have been so much better if I'd prepared myself properly. I needed to do the correct training and take the right food. The lack of sleep is a real killer on this one, and if you don't treat your body well and try and replenish and protect energy reserves, it can have some nasty consequences.
I spent Sunday in the Emergency Care unit with a suspected displaced meniscus (cartilage in the knee joint).  Not sure I'll be completing any challenges for a few months but watch this space….