Fantastic News!
I heard on Friday that I have passed my 3rd Dan Kickboxing Exam.  It's such a relief to know that I won't have to face another exam, and I'm over the moon to know that, I've managed to prove I'm good enough to belong to a very exclusive group of people who have achieved this grade.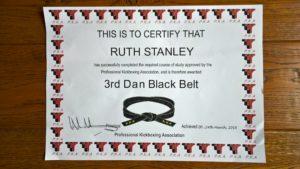 I'll be awarded a new belt shortly and presented with a plaque, to keep and remind me of the sweat and tears that went into getting this far.  It feels like a huge honor, but, shows what's possible with a bit of determination, hard work and a great support team.
I'm not sure what's next for me, I'll continue with the kickboxing, as I'm a massive fan and it's something I'm very passionate about. But I'll certainly be on the lookout for my next challenge.