This time of year can be a troublesome time for those of us who suffer from Asthma.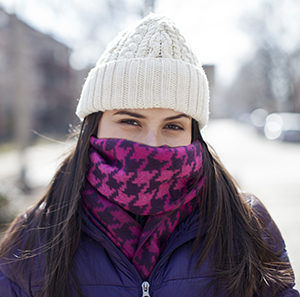 Charity Asthma UK says breathing in cold, damp air can make the airways tighten and trigger an attack in three out of four people.  Leaving people coughing, wheezing and grasping for breath.
Those individuals who suffer from asthma are being encouraged to wear a scarf over their nose and mouth to prevent asthma attacks this winter. The charity's #Scarfie campaign says "a scarf can save a life" but it's not a replacement for asthma medicines.
Four million people with asthma in the UK say that breathing in cold winter air makes their asthma symptoms worse.
Dr Andy Whittamore, clinical lead at Asthma UK and a practising GP, said just going outside on a cold day could be life-threatening for many people with asthma.
"Living in the UK means that cold weather is impossible to avoid over winter, but if people have asthma, simply wrapping a scarf around their nose and mouth can warm up the air before they breathe it in, reducing their risk of having an asthma attack.
"We are urging everyone – whether they have asthma or know someone that does – to share the message that something as simple as a scarf could save a life."
In the UK, 5.4 million people have asthma and just over one million of them are children.